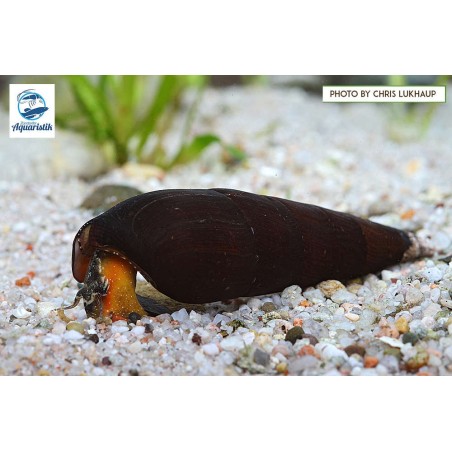 < >
Lavaschnecke - Faunus sp. lava
Safe animal shipping by animal courier
EU-wide shipping possible. Safe delivery by animal transport to GER, AUT, LUX, NL and BEL possible.
Live Arrivals Guarantee
When shipping with GO! animal courier, we assume the shipping risk!
Satisfaction guarantee
Lavaschnecke, Faunus sp. Lava

Die ursprünglich aus Indonesien stammende Lavaschnecke ist eine besonders interessante Turmdeckelschnecke. Sie ist äußerst aktiv und farblich sehr attraktiv. Sie bewegt sich, wenn sie sich wohl fühlt, sehr gerne an den Aquarienscheiben auf und ab, wo auch ihre ganze Farbenpracht zur Geltung kommt.

Das Gehäuse der Lavaschnecke ist fast schwarz. Dazu besitzt sie einen überwiegend lavaroten Fuß. Die mittelgroße Schnecke kann in Aquarien ab 40 cm Länge gehalten werden. Die Art des Bodengrunds spielt keine große Rolle, wir haben noch nicht beobachtet, dass sich die Schnecke darin eingraben möchte.

Die Vergesellschaftung der Lavaschnecke mit anderen Aquarienbewohnern ist recht problemlos. Es lediglich darauf zu achten dass keine Tiere eingesetzt werden, die größere Schnecken fressen.

Die Schnecke bevorzugt warme Aquarien mit einer Wassertemperatur von 22-30° Celsius. Diese Faunus-Art frißt völlig problemlos Flockenfutter (wir füttern ihr JBL NovoBel) oder Futtertabletten. Die Schnecken gehen wirklich gut ans Futter.

Die Endgröße der Lavaschnecke liegt bei ca. 6 cm.

Faunus sp. Lava vermehrt sich nicht in Süßwasser. Scheinbar durchleben die Larven ähnlich wie bei der Zebrarennschnecke ein Brackwasserstadium.

Aktuelle sind die Tiere etwa 3-5 cm lang.

Wie alle angebotenen Faunus auf dem Markt, handelt es sich auch bei diesen Tieren um Wildfänge. Aus diesem Grund haben die Tiere oftmals Gehäuseschäden, welche leider nicht vermieden werden können.
Customers who bought this product also bought:
4 other products in the same category: