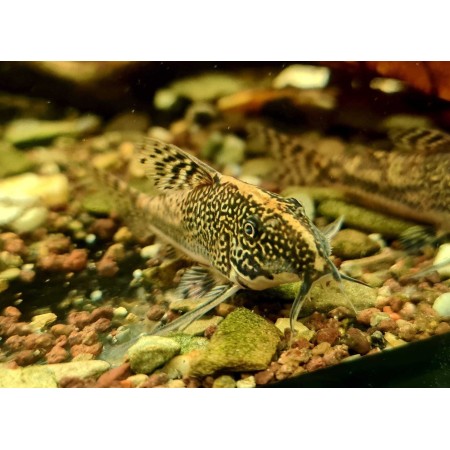 < >
Scleromystax barbatus-Schabrackenpanzerwelse DNZ
Safe animal shipping by animal courier
EU-wide shipping possible. Safe delivery by animal transport to GER, AUT, LUX, NL and BEL possible.
Live Arrivals Guarantee
When shipping with GO! animal courier, we assume the shipping risk!
Satisfaction guarantee
Aus deutscher Nachzucht können wir wenige wunderschöne Scleromystax barbatus ,auch unter dem Namen Schabrackenpanzerwelse bekannt abgeben.
Die Tiere sind derzeit 3-5cm und sind topfit!
Gepackt wird wie gefangen , keine Größen Wünsche möglich.
Gehalten werden bei uns in auf Raum Temperatur.
Sie fressen Granulat, Tabs, Lebendfutter und Frostfutter.

Die Welse bevorzugen eine Temperatur zwischen 18-25 Grad.
Die Welse sind friedlich und lassen sich gut vergesellschaften, fressen auch keine Pflanzen.
Da die Tiere in Gruppen gehalten werden sollten, empfehlen wir mindestens 6-8 Stück !
Der Preis gilt selbstverständlich pro Fisch, weitere Staffel nicht möglich
Bild dient lediglich zur Orientierung , Jungtiere können farblich abweichen.

Die schöne Färbung und das Muster intensivieren sich mit zunehmenden Alter, schöner sind natürlich die männlichen Tiere :-).
Eine Auswahl der Geschlechter ist nicht möglich. Bei Abnahme einer Gruppe werden aber aus Erfahrung immer beide Geschlechter vorhanden sein.
Customers who bought this product also bought:
4 other products in the same category: