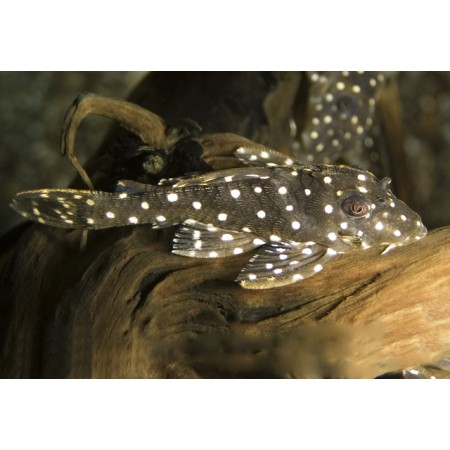 < >
Orinoco-Engelsharnischwels, Hypancistrus sp. L201
Safe animal shipping by animal courier
EU-wide shipping possible. Safe delivery by animal transport to GER, AUT, LUX, NL and BEL possible.
Live Arrivals Guarantee
When shipping with GO! animal courier, we assume the shipping risk!
Satisfaction guarantee
Haltung:
Der L-201 wird 10cm lang und sollte in Becken ab 100l gehalten werden. In dieser Beckengröße können 5 Tiere gleichzeitig gehalten werden. Er mag sehr gerne Versteckmöglichkeiten an Wurzeln oder Tonröhren. Auch Pflanzen sind als Einrichtung sehr schön geeignet, weil er diese nicht anrührt.
Nahrung:
Frost- und Trockenfutter, Algen.
Vergesellschaftung:
Der L-201 ist ein klassischer L-Wels, der sich mit sämtlichen Fischen vergesellschaften lässt. Er ist nicht aggressiv. Nur würde er gegenüber Artgenossen sein Versteck verteidigen. Meiner Meinung nach ist er einer der aktivsten L-Welsen und setzt sich auch problemlos beim Füttern gegen Panzerwelsen durch.
Customers who bought this product also bought:
Tetraodon schoutedeni - Congo Leopard puffer fish (german offspring!)
8 other products in the same category: