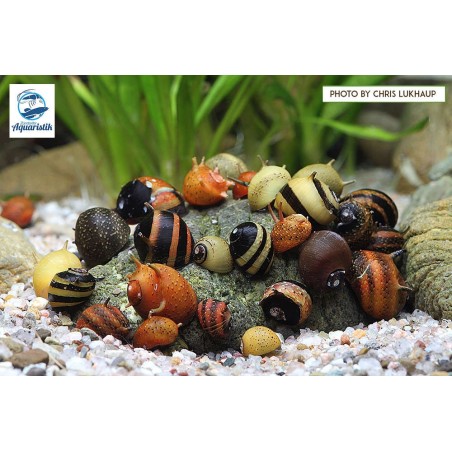 < >
Geweihschnecke - Clithon sp ( Mix )
Safe animal shipping by animal courier
EU-wide shipping possible. Safe delivery by animal transport to GER, AUT, LUX, NL and BEL possible.
Live Arrivals Guarantee
When shipping with GO! animal courier, we assume the shipping risk!
Satisfaction guarantee
Deutscher Name:Geweihschnecke
Wissenschaftlicher Name:Clithon sp.Mix
Herkunft:Asien(Mehrere Orte bekannt)
Eigenschaften:    Die friedliche, hauptsächlich tagaktive kleine Geweihschnecke oder auch Hörnchenschnecke genannt, werden
Oft gepflegt und sind eine gute Hilfe bei Algen Probleme
Clithon sp. besitzt ein 'Geweih', mal mehr und mal weniger.
Diese kleine Geweihschnecke ist schwarzgold, gelb , Rot oder schwarzbraun gemustert
Aquarium: Die Haltung von Clithon sp. ist bereits in kleinen Aquarien ab 40 cm Länge gut möglich. Eine besondere Beckeneinrichtung ist zur Pflege dieser attraktiven Wasserschnecke nicht notwendig.
Vergesellschaftung:    Die Vergesellschaftung von Geweihschnecken ist mit den meisten Fischen, Garnelen, Schnecken und Muscheln kein Problem. Kugelfische und können die Schnecke jedoch fressen.
Temperatur:    22 bis 30° Celsius.
Nahrung:    Clithon sp. sammeln Futterreste vom Boden auf und sind gute Algenvertilger.
Erreichbare Größe:    Bis zu 2 cm Durchmesser.
Zucht:    
Über die Fortpflanzung der Geweihschnecke im Aquarium liegen uns bislang noch keine Erfahrungsberichte vor.
Aktuelle ungefähre Größe:    
0,5-1,0 cm Durchmesser
Customers who bought this product also bought:
2 other products in the same category: