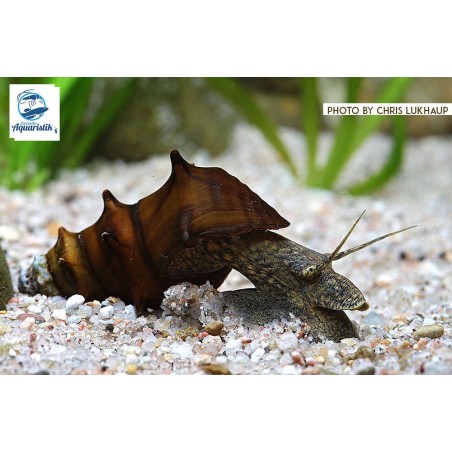 < >
Stachelige Turmdeckelschnecke - Pagodenschnecke - Brotia pagodula
Safe animal shipping by animal courier
EU-wide shipping possible. Safe delivery by animal transport to GER, AUT, LUX, NL and BEL possible.
Live Arrivals Guarantee
When shipping with GO! animal courier, we assume the shipping risk!
Satisfaction guarantee
Brotia pagodula , Gestachelte  Turmdeckelschnecke
Diese wunderschöne und seltene Schnecke können wir endlich wieder anbieten
Brotia pagodula lebt in sauerstoffreichen Fließgewässern Thailands.
Aufgrund Ihrer End-Größe von ca 4cm kann dieses Tier in Aquarien ab 54 Liter Inhalt gehalten werden, zu empfehlen sind allerdings größere.
Ph wert sollte hier bei mindestens 7,5 liegen, idealerweise höher
Die Wassertemperatur sollte 22 bis 25°C betragen
Brotia pagodula lässt sich problemlos mit Pflanzen vergesellschaften, da sie gesunde Pflanzen in der Regel nicht angeht.
Die übliche Nahrung für die Gestachelte Turmdeckelschnecke beläuft sich auf Detritus und Algenbewuchs, wobei futter Tabletten, Laub sowie auch verschiedene Granulate schmecken zu scheinen:-)
Als Bodengrund empfehlen wir Sand oder feinen abgerundeten Kies .
Brotia pagodula ist getrenntgeschlechtig und ist Lebendgebährend.
Aktuelle Abgabe Größe ist ca 3 cm
Customers who bought this product also bought:
4 other products in the same category: