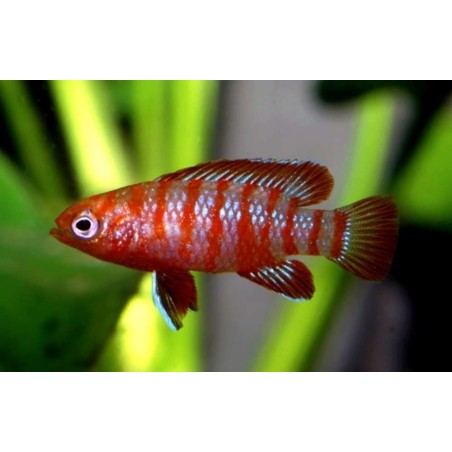 < >
Scharlachroter Zwergblaubarsch, Dario dario Nanofisch
Safe animal shipping by animal courier
EU-wide shipping possible. Safe delivery by animal transport to GER, AUT, LUX, NL and BEL possible.
Live Arrivals Guarantee
When shipping with GO! animal courier, we assume the shipping risk!
Satisfaction guarantee
Merkmale:
Dario dario ist ein sehr kleiner Fisch, der nicht einmal eine Länge von 2 cm erreicht. Das größte in freier Natur gefangene Männchen hatte eine Länge von 14,8 mm, das größte Weibchen war 13 mm lang. In Aquarienhaltung wuchsen die Fische bis zu einer Länge von 17,2 mm heran. Ihr Körper ist mäßig langgestreckt und seitlich abgeflacht. Der Kopf ist abgerundet, die Schnauze kurz, das Maul groß und leicht nach oben gerichtet. Im Oberkiefer befinden sich drei bis vier Zahnreihen vorne und je eine an den Seiten, im Unterkiefer vier vorne und je zwei an den Seiten. Das Gaumenbein  ist unbezahnt. Auf dem Kiemendeckel befindet sich ein kurzer Dorn, der normalerweise unter einer Schuppe verborgen ist. Männchen sind rötlich gefärbt mit sieben blauen, senkrechten Streifen auf den Körperseiten und blau-roten Flossen. Weibchen sind grau mit einer mehr oder weniger gut sichtbaren, dunkleren Seitenstreifung und transparenten Flossen.
Dario dario, im Deutschen auch als Zwergblaubarsch, Bengalischer Zwergblaubarsch, Scarlet-Blaubarsch, Scharlachroter Zwergblaubarsch oder Roter Scarletzwergblaubarsch bezeichnet, ist eine Fischart aus der Familie  der Blaubarsche(Badidae), die im nordöstlichen Indien in den Bundesstaaten Bihar , West bengalen und im westlichen Assam  vorkommt.
Wichtig:
Gepackt wird wie gefangen, leider keine Geschlechterwahl möglich 
Versand nur mit Tierkuer möglich , bitte diese Option auswählen.
Customers who bought this product also bought:
4 other products in the same category: