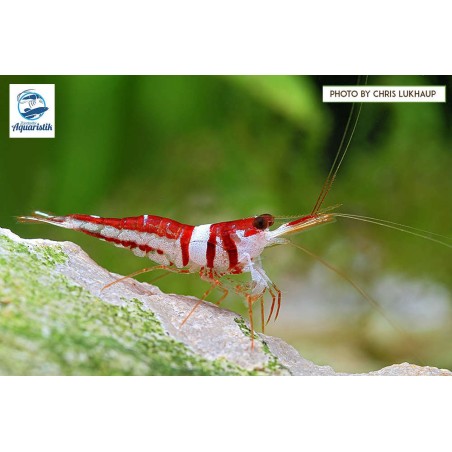 < >
Caridina woltereckae - Harlekingarnele
Safe animal shipping by animal courier
EU-wide shipping possible. Safe delivery by animal transport to GER, AUT, LUX, NL and BEL possible.
Live Arrivals Guarantee
When shipping with GO! animal courier, we assume the shipping risk!
Satisfaction guarantee
!!!Nur Per Express Versand oder Go möglich!!!!
Wissenschaftlicher Name:
Caridina woltereckae
Deutscher Name:
Harlekin-Garnele
Herkunft/Verbreitung:
Towuti-See, Sulawesi, Indonesien
Beschreibung:
Eine kleine markant gezeichnete Garnele. Sie hat eine rot-braune Streifung auf weiß-durchsichtigem Grund.
Geschlechtsunterschiede:
schwierig, Weibchen etwas "fülliger"
Größe der Weibchen in mm:
bis ca. 15 mm
Größe der Männchen in mm:
bis ca. 13 mm
Schlüsselmerkmale:
charakteristische Streifenzeichnung wie Caridina spongicola
Wassertemperatur:
27°C
PH-Wert:
8,5
Beckeneinrichtung:
Benötigen sehr sauberes Wasser!
Verhalten:
lebt recht versteckt
Vergesellschaftungsmöglichkeit:
keine
Art der Vermehrung:
große Eier, aus denen weit entwickelte Jungtiere schlüpfen.
Gelegegrößen/Nachwuchsanzahl:
bis 15
Bemerkungen:
Diese Garnele ist ähnlich zu Caridina spongicola, Zitzler & Cai, 2006, zu der folgendes zu sagen ist:
Wohl die einzige Garnelenart, die außschließlich auf einem Süßwasserschwamm. Da sie bisher nur in einem kleinen Bereich im Towuti See in Schwämmen in einer Tiefe von 2 bis 5 m nachgewiesen wurde, kann sie als gefährdet gelten, falls ihr kommerziell nachgestellt wird. Die Handelspreise, falls man sie im Handel bekommt, weit jenseits der Hundert-Euro-Grenze werden eine Ausbeutung verhindern, bis weiteres über diese faszinierende Art bekannt ist.
8 other products in the same category: